Satire explained
Posted Friday April 23, 2010 at 05:56 AM
Apparently the satire I wrote about the GenCon icon needs to be explained to a depressing minority of people. (Mostly men, funnily enough. [And by "funnily enough" I mean "painfully predictably", of course.])
I've been accused of being offensive and over-the-top. "Thank you," I must reply to that because that was the fucking point. The satire in this case is meant to take a belief or argument that is considered acceptable, break it down to its underlying structure, and populate that structure with equivalent items that highlight how inappropriate the original thing is. Y'know, to make the reader question calcified and antiquated assumptions.
Like this:
Here, an icon representing an insult is used to illustrate a textual expression of an inclusive intent. The combination image is flatly contradictory bullshit. (Those are technical terms.)
The point of the satirical icons was to show the reader that these things are all the same in kind (if not degree), just with different groups of people who are marginalised by modern Western culture (i.e., our culture). To accomplish this, the images slowly ramp up the degree of blatant insult encapsulated by the image until the contradictory bullshit is undeniable.
Let's start with the most blatant and work our way down: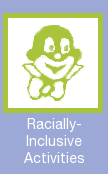 This image is just so fucking offensive it's unbelievable that I could bring myself to create it. It's incredibly over the top. It's unbe-fucking-lievably complete bullshit, and I hope all the readers would agree. This is indefensible if GenCon did it. Which is why I created it, to get us all on the same page that some things are just wrong. I could have gone all Modest Proposal on y'all and included baby-eating and worse, but I think this image goes far enough to make sure we've established OMG fucking wrong without a doubt. Baby-eating would have just been gilding the lily.
The inclusive intent in this image is pretty awesomely good: everyone is welcome and racial issues will be sensitively addressed! That's pretty sweet! We need more of that.
Now, the icon is really, really bad. OMG so bad. Not only does it depict a blackfaced man and/or the most egregious caricature of black men in our collective memory, but it is using this image to represent all people who would care about racially-inclusive events. "Race" in our culture is almost synonymous with "black", which is a crock. White is a race[1. Actually "White" is not one homogeneous race too, yet that's for advanced students of race issues.] too, yet only things about "coloured" people are considered to have anything to do with race. Worse, this image manages to lump all "minorities" together as if they're a homogeneous group.
A fucking crock that is!
If the icon was funny to someone, would that make the image OK? NO!
If in the privacy of your own home you called your black friend a racial slur and you both thought that wasn't offensive because it was "just in jest", would that make this image OK? NO!
I hope the structure and its relationship to unacceptability is becoming clear.
So that's the most offensive and over-the-top icon explained for the humourless and empathy-impaired. Let's say that image gets 6 out of 5 WTF?!s because it is just completely unacceptable.[2. I almost wrote "beyond the pale" here, but you know what? That's an expression that literally means, "those bloody Irish savages outside the fortified walls of civilisation that we English have carved out of Ireland for our colonists." I think that's a phrase I will have to strike from my lexicon.]
Next up:
Now I think we can all agree that making GenCon accessible is a good thing. That text there in the image is pretty good as far as inclusive intent goes.
I think we can also all agree that the image is really fucking offensive. (Do I really need to explain this? Because I want to move on to the commonalities of structure. OK, moving on.)
So again, the combination of the insensitive insult as expressed by the icon with the positive inclusive intent expressed by the text results in a contradictory pile of steer manure. It makes the image as a whole offensive, and any organisation using it in naïve earnestness would be guilty of being insensitive assholes. (Also a technical term.)
If someone somewhere laughed when they saw this icon, would that make it OK for GenCon to use this image in their schedule? NO!
If you and a buddy regularly called each other "retarded cripple" as a term of endearing affection, would that make an iota of difference in the asshole-itude of GenCon organisers if they chose to use it in their schedule? (Hint: still NO. I mean, really? Do I have to spell that out?)
Let's give this image 4 out of 5 WTF?!s for the sake of argument. Clearly it's not as unbe-fucking-lievably outrageous as the blackface icon (though it's pretty ridiculously bad), and we need some room lower down on the scale for the rest of the images.
Next image: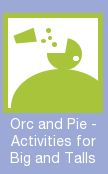 Is accommodations for GenCon attendees larger than a #6 dress size actually a problem? I don't know, but let's assume for the sake of explaining this satire thoroughly into the ground that there are attendees of GenCon who feel marginalised due to their physical size. Given this possible state of affairs, efforts to make these people feel more welcome and accommodated would be great.
It would be especially great if accommodating such people didn't backhand them by calling them a big fucking whale. Because that's what the icon does. See that tub of lard who can't go a second without shoving something down the gullet? Man, that is a giant radius on that ellipse. Let's all point and laugh!
NO! you insensitive assholes who are actually laughing. You can laugh and point privately (asshole), but that still wouldn't make it OK for GenCon to paste this up on their website.
If you and your Widdle Shnooky-Wookums sweetheart at home are weighty people and decide to affectionately call each other "my giant tub of love-lard" and "my overflowing cup of fatty joy," that's your business. Would your private feelings that it's "just a joke" make it OK for GenCon to actually use this icon on their schedule? NO!
Have we got the pattern clear? Is there any confusion about how this satirical structure works? No?[4. Oh, you answered "Yes?" Either ask for clarification with the honest intent to be educated or fuck off.] Good.
Let's give this image 3 out of 4 WTF?!s.
Now we arrive at the image that GenCon actually used on their schedule: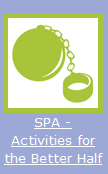 Let's see what we have here. An expression of inclusive intent in the text of the image? Check.
A term that is used widely as an insult in the icon? Check.
Do I really need to step through this structurally to show why there's a problem with that combination that results in contradictory bullshit?
Sigh. Alright then: Accommodating spouses of gamers at GenCon is a great fucking idea. It sounds like the program is very successful as evidenced by the growing number of attendees signing up for SP.A. activities each GenCon since the program was started. The more people attending GenCon and enjoying their time there, the better! Yay! Cake for everyone!
It would be especially great to have such a program that didn't deliver a backhand slap to the attendees who are actively being welcomed by insulting them and their relationship to their gamer spouse. It would be even better if such a program didn't assume that women are strange, special creatures that need very specific, women-y activities for entertainment, and didn't further assume that… Oh fuck it, I need bullet points to enumerate the assumptions buried in that one single image:
Gamer are all men
Women aren't gamers
Women only like crafty, dancy, stripper-pole-y activities
There are no male spouses
There are no gay gamers and spouses
Non-gamers should have an activities ghetto
Men universally consider their wives a burden
All married couples think this joke is funny
All women think this joke is funny
All men think this joke is funny
Everyone thinks this is appropriately professional and respectful
GenCon is run by insensitive assholes more interested in their own in-jokes than in being fucking professionals in their work
Women are fair game as the butt of a corporation-wide joke
Women don't mind being repeatedly insulted by their con schedule so long as the insult is "minor" and some people think it's more funny than insulting (Hint: it's still insulting even if its funny quotient is greater than its insult degree.)
Now, I'd only rate this image 1 or 2 out of 5 WTF?!s, but only because making women the butt of jokes is still considered normal in our society and not very WTF-worthy to most people. Jokes about black people and the disabled were just as common not so many years ago, but we fucking know better now (and those who don't are considered disgusting and vile people).
There are still "fat" jokes everywhere, and as a culture we have a really unhealthy relationship with weight (high and low) and the issues around it. The jokes mask attempts to shame and ostracise people who don't conform to (constantly shifting) ideals of health and beauty that are mostly made up by people who don't actually know what a good ideal of health or beauty is.
We only don't know better when it comes to jokes about women because we're in a time of transition between an era where women were considered domestic labour not worthy of education or regard (or the vote, or working outside the home, or pleasure, or human rights, etcetera ad nauseum.[6. Very much nauseum to think of how poorly half our species has treated the other half for thousands of years and as recently as last century.]), and an era where women are given equal regard and rights to men.
So, y'know, catch the fuck up. If you wouldn't laugh at a black man being called a monkey by a large corporation like GenCon, then you really shouldn't laugh at a large corporation like GenCon calling you or your partner a device of shame and incarceration. (Do you think there are any black men who laugh at monkey-black-man jokes? At all? If there were, would that make it right?)
Conclusions for the short of attention-span
A lot of people consider jokes about women harmless, having been brought up in a culture where it's just normal to hear and makes jokes at the expense of women's dignity. Many women do, even, because they were brought up in that very culture that says making jokes about women is the way to show she's not "stuck up" or "full of herself" or "can't take a joke".
To illustrate that there's really no reason to condone the ball-and-chain icon except due to one's own understandable blindness to a common injustice, it is compared to a structurally identical image that is slightly more obviously inappropriate; then to one that is very obviously inappropriate; then to one that is so very inappropriate that it is undeniable and possibly shocking.
The hope is that the reader can connect the dots with a crayon.
If the reader can't, then isn't it convenient and comfortable (and dare I say, privileged) to live a life that doesn't include questioning one's assumptions such that it might lead to giving up such an immeasurably important thing as a trite and tired joke.