GenCon "reaches out" in the spirit of "inclusiveness"
Posted Tuesday April 20, 2010 at 07:27 PM
GenCon organisers have been making efforts to accommodate the non-gaming partners of the thousands of gamers that flock to Indianapolis every year. Critical Hits highlights GenCon organisers' efforts, bringing to our attention all the non-gamer activities on the schedule for women[1. Because "of course" women don't game and bring their non-gamer male partners, nor do gay men game and bring their non-gamer male partners, let alone transgendered couples. And yes, if you didn't catch it this article is satire.] in all their varied glory.
Activities such as dancing lessons, fitness classes, yarn and needle crafts, jewelry-making, cooking (for your gamer), the ever-empowering pole dancing lessons, scrapbooking, bellydance, and self-defense are helpfully marked for easy identification with this icon: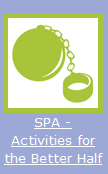 Ball and chain! Haha! Those super-smart geeks sure can come up with intelligent and respectful humour when poking gentle fun at the women they purport to love!
This is a great first step for GenCon to make everyone feel valued and welcomed to the convention, but I think GenCon organisers can do better. I propose that GenCon adopt the following icons for appropriate events to make sure that no-one is left out: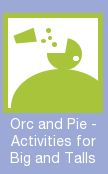 Don't you hate it when you get to a table and the chairs are all too small? Or worse, all the tiny chairs are overflowing with immense gobs of geekflesh streaked with Dorito dust?
With this icon the "Big and Tall" gamers would know which games had the capacity to accommodate their corpulent selves comfortably, and the skinny-jeans geeks will know which games to avoid!
This forward-thinking and progressive icon would help the physically and mentally disabled (because that's all one homogeneous group, remember) find games and events that can accommodate their unusual and specific needs.
Normal gamers would no longer have to deal with weirdos in bulky wheelchairs breaking the suspension of disbelief in LARPs, or the awkward and resentful responses to their short series of perfectly well-meaning questions about how a disabled person became disabled.
Everyone wins!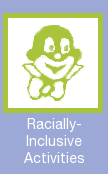 In this post-racial world it's important to constantly highlight and emphasise how minorities are welcome everywhere normal people are. If GenCon organisers adopted this icon, minorities of all colours would be able to quickly and easily identify the games and events that are welcoming of and sensitive to their quaint subcultural customs and non-English languages.
Similarly, people who don't want to get into uncomfortable discussions of race when they're trying to enjoy their escapist fantasy of many lands full of white, muscular men and white, bustin'-out-everywhere women can rest assured that avoiding events with this icon will do the trick.
I for one hope that GenCon will consider these icon suggestions and take them as a celebration of their efforts so far, and as encouragement to further develop their sensitive and inclusive scheduling policies. I think this issue is so important that I missed my Parent and Tots knitting circle to write this article![5. Seriously, I did miss my knitting circle to write this. I must also say that the kids have been remarkably patient with my blogging.]